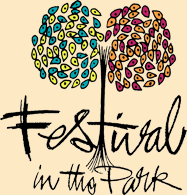 Fall will be arriving soon as we move deeper into September. With cooler weather and changing leaves come and join the thousands of spectators at Festival In the Park. This annual festival kicks off each year with hundreds of arts and crafts booths selling wares, paintings, food, and crafts for the whole family. Festival in the park will also be host to many entertainers performing on several stages around Freedom park. This family friendly event is celebrating it's 49th year this September.
Festival in the Park is one of the largest festivals in the south east, boasting around 160,000 visitors in 2012. the four day long festival has something for everyone. There are carousels and rides for the kids, concessions, meat on a stick, art, music, and all sorts of crafts from vendors across the US. The best part is the admission for this great event is free. Parking can be tricky in the Dilworth area and the walk might be long.
The best times to come are the cooler evenings. You can have dinner and a great walk around the lake at Freedom park to see all the arts and crafts, or catch a great show.  This is a great event to enjoy time and again in Charlotte.
Dates & Times:
Friday – Sept. 20th / 4pm – 9:30pm
Saturday – Sept. 21st / 10am – 9:30pm
Sunday – Sept. 22nd / 11am – 6pm
Where: Freedom Park
Price: Free