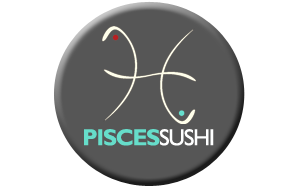 Pisces Sushi Bar opened its doors in 2010 and has not looked back since. It is located in the heart of Midtown Charlotte, in the Metropolitan area, and has easy access parking. The atmosphere is inviting with a large bar and open dining area, but for a more private experience they also have tall booths in the back. Pisces offers a wide variety of sushi including: nigiris, sashimis, and house specialty roles. If you are not a sushi fan they also have traditional Japanese appetizers and hibachi entrees.
Pisces in Midtown Charlotte offers a great alternative to the regular burgers and fries lunch, with their all you can eat sushi lunch. It is around $14, but they do have a "waste" fee if you leave too much sushi on your plate. Unlike other sushi bars the lunch orders are made as you order, not buffet style. They want to encourage your appetite, and minimize food waste.
Pisces also has a secret ingredient behind the bar, Bob Peters, a 15 year veteran mixologist who is well known for his custom drinks. He is well sought out at Pisces brunch for his "Tito's Bloody Mary" that includes pickled lotus root.
So whether its sushi, hibachi, or happy hour cocktails Pisces Sushi in Midtown Charlotte is sure to meet your needs.
Pisces Sushi
Phone: 704-334-0009
Lunch Entree Menu
Lunch All You Can Eat Sushi
Dinner Menu

Hours:
Mon – Wed: 11:30am – 10:30pm
Thur: 11:30am – 12am
Fri – Sat: 12pm – 2am