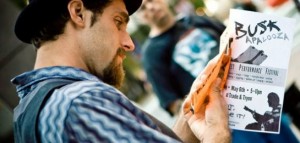 Busking, what's that? It is a performance or skill done on the street in return for gratuities, usually cash. Busking is not new, it dates back to antiquity. We have all seen street performers before; someone painted solid white from head to toe, a late night serenade by acoustic guitar, or balloon contortionist. You can find a busker in most major metropolitan areas. These performers will provide timely entertainment for laughs, claps, and most importantly tips.
If you have yet to encounter a busker, then you are in luck, Buskapalooza III The Street Performance Festival is happening in Uptown Charlotte on May 17th. Come out to Trade and Tryon streets in the evening from 5pm – 9pm, to enjoy the best of the Queen's City buskers. There will be Dance, Music, Performing Arts, and Visual Art.
If you have the desire to learn more about Busking, there is a film premier that you can attend: BUSK! The Documentary. This showing is happening at the McGlohon Theater; tickets are $5. The film runs around 42 minutes, and after the feature there will be a Q&A session with the director, April Denee, and two buskers.
If you want to take your busk information and try busking for yourself, they have provided a full busking guide with permit info, helpful advice, and popular busking locations: Busking Guide.
Busking Events
Buskapalooza Street Performance Festival III
When: Friday, May 17th, 5-9pm
Where: Uptown Charlotte, starting at Trade & Tryon
Price: FREE (but please tip your favorite buskers)
Schedule: http://buskmovie.files.wordpress.com/2011/01/3_event-program.jpg
BUSK! The Documentary Premiere
When: Sunday, May 19th, 4pm
Where: McGlohon Theater, 345 N. College Street, Charlotte, NC
Price: $5 (buy tickets)